Irritrol IBOC® 100/300 Wireless Lawn Irrigation Controllers
SOLID STATE - Commercial, Light Commercial, and Residential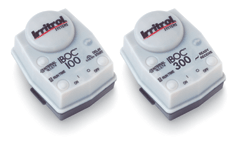 The advanced-design IBOC100 and new remote-controlled IBOC300 are highly reliable, battery-powered, valve-mounted controllers. Easy to install and use, they are specifically designed to provide automatic valve operation in areas where a hardwire connection is impractical. Both models also are ideal for converting existing electric valves to independent battery operation, and they can be used to temporarily replace a solenoid if a broken valve wire cannot be fixed immediately.

Features:
Modular design allows for easy field programming

Water-resistant construction provides reliable operation

Battery-powered unit features low power consumption

Retains program up to two minutes without battery installed

International icons with English captions provide easy-to-understand programming information

Default program option allows for quick setup — simply plug in battery and setup is complete

LED lights verify program input and operation

Fits all Irritrol irrigation valves with internal manual bleed — requires VA12 adapter (included)

Low-profile design fits in all valve boxes

Two-year controller warranty; one-year battery warranty


IBOC100

Simple hand programming

Run time programmed in real time for added convenience

Delay start feature (zero, four, eight or 12 hours) allows unit to be programmed for nighttime automatic irrigation

Watering intervals of 12, 24 and 48 hours or seven-day cycles

One- to two-year battery life


IBOC300

Remotely programmable with the RCP8+

Three start times per program

Seven-day calendar or interval programming

True odd/even programming with automatic 31st day skip

Programmable "Rain Off" up to seven days

Programmable address allows easy programming of multiple units in a single valve box

Address, battery condition and current program information can be uploaded to the RCP8+

One year battery life with typical operation

When programmed manually, IBOC300 offers the same run times and watering cycle options as the IBOC100

Infrared programming overrides any manual program settings


Operating Specifications
Four irrigation cycle options: once per day; twice per day; once per two days and once per seven days

Pressure limit: 150 psi

Operating temperature: 32° to 140° F
Electrical Specifications
Battery: 6 VDC custom battery
RCP8+Remote Control Programmer for the new IBOC300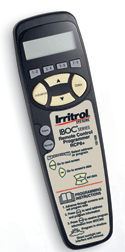 Features
Holds up to eight independent programs for multi-valve installations (one program per valve; no limit to number of valves that can share a program)

Multi-language LCD display prompts user through programming steps

One-button operation to upload and download programs

Infrared transmission of program to IBOC300 from up to 10 feet away (12-inch minimum distance)

Size: 8 1/2" x 2 3/8" x 1 1/8" (L x W x H) Weight: 6.2 oz.

Electrical supply: 4 AAA batteries (not supplied)

LCD screen: 2 lines x 8 columns; 5/8" x 1 3/4"

10-key pad
Note: IBOC products are special order, and currently have a ten day lead time for shopment.