Hunter SVC Controllers
SVC Smart Valve Controllers
Reliable battery-powered control without the need of electric connection.
For isolated sites or power-restricted areas, and for the special needs of drip zones, Hunter provides the ideal economical answer. The SVC mounts to a valve solenoid quickly and easily–without screws, drills, or additional wires–and the unit's solid construction ensures it can handle the harsh environment of a valve box. The SVC operates off a single 9-volt battery that's guaranteed to provide power through a full season. Along with exceptional reliability, it's also a breeze to program, with an easy-to-read LCD display instead of cumbersome buttons and knobs. Up to nine start times are available, offering the flexibility to handle watering schedules for such things as establishing new turf or irrigating steep slopes with low infiltration rates.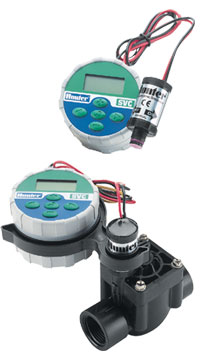 User-friendly Programming
Same easy-to-use programming style as all Hunter controllers
Latching Solenoid Design for Minimal Power Consumption
9-Volt battery guaranteed to last longer than one full season
Fully Submersible and Waterproof to 12 Feet
No moisture intrusion, even in humid valve box environments
Irrigate Landscapes in Remote Locations
Helps reduce system installation costs
Flexible Programming Options
Choice of days-of-the-week or 31-day interval scheduling
Sealed Battery Compartment
Customized design features resin-sealed electrical components that withstand water intrusion
Weather-Sensor Compatible
Accommodates any Hunter weather sensor product

Hunter WVC Wireless Valve System

Rugged, Reliable, Multi-Station, Multi-Function, Battery-Powered Controller and Programmer

Hunter's new Wireless Valve System makes it possible for a site that lacks standard electric power to enjoy all the benefits of automatic irrigation. At traffic medians and roundabouts, rural properties, construction sites and municipal parks, most battery-powered controllers leave you guessing as to when the battery is going to run out. No problem here – battery life is guaranteed through a full season, making replacement a simple annual task. What else sets this unit apart? There's no need to reach inside the valve box in order to hook up a field transmitter and download program instructions; the programmer can communicate with the controller from as far as 100 feet away. Couple this with the wide range of user-friendly operating features and you'll find there's no battery-powered controller on the market that's easier to program. The control unit is fully submersible and waterproof up to 12 feet, making the unit rugged enough to take on whatever water, mud and debris might be found in a valve box environment. And, with all installed components hidden away safely underground and out of view, only the Wireless Valve System can claim to be truly vandal-resistant.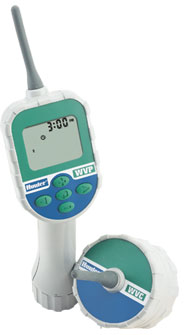 Wireless, Radio-Controlled Operation up to 100' Away
Perform system checks, programming without direct access to the controller

Latching Solenoid Design for Minimal Power Consumption
9-Volt battery guaranteed to last longer than one full season\
Fully Submersible and Waterproof to 12 Feet
No moisture intrusion, even in humid valve box environments
Each Valve Set Up with Own Start Time, Run Time and Day Schedule
Plant types with different requirements receive the exact watering they need
Choice of 2- and 4-Station Models
Sized perfectly for medians, roundabouts and other heavy-duty applications
Controller Attaches Out of Sight in Valve Box
The ultimate in vandal-resistance
Double-Sealed Battery Compartment
O-ring seal near threads, second seal inside cap withstand water intrusion
Weather-Sensor Compatible
Built-in rain sensor circuit can be connected to Hunter weather sensor products
Note: Solenoids Sold Separately from WVC Controllers